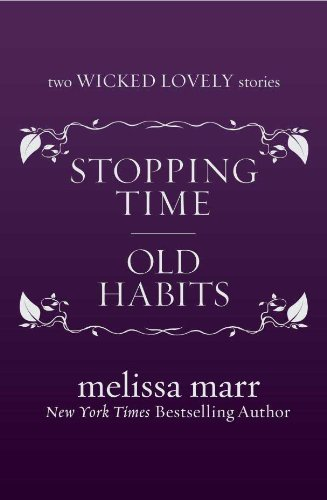 Title: Old Habits and Stopping Time
Author: Melissa Marr
Series: Wicked Lovely, Book #2.5-2.6
Genre: YA, Fantasy
Page Count: 120 Pages (approximate)
Pub. Date: Ebook Published 2011 by HarperTeen
Rating: 5/5
With "Old Habits," Melissa Marr returns to the ravishing world of Faerie with a story set between her bestselling novels Ink Exchange and Fragile Eternity. Recently anointed king of the Dark Court, Niall struggles to forge a new relationship with his subjects—and with the former Dark King, Irial, his once-friend, once-enemy, and now possible-advisor.
"Stopping Time" is an exciting e-story original sequel to the bestselling Ink Exchange. Leslie walked away from the Dark Court, determined to reclaim her life and live it on her own terms—even if it meant leaving behind the two faeries who love her. She knows Niall and Irial watch over her, and she would give almost anything to keep them from hurting. But she resists the pull to be with either one of them. Someone knows about Leslie's past, however, and is intent on using her to reach the fey. And he doesn't care who gets hurt….
~My Review~
This was my first time reading these Ebooks. I bought them when they came out, but wanted to wait until I re-read the series so I would get them in context. I bought each separately, so I read Stopping Time first because it was published first, but I would suggest starting with Old Habits.
One of the things that troubled me when reading this series the first time was that Leslie's story seemed to drop of suddenly. I wanted to know more about what happened to her, and how the Dark kings dealt with her leaving. I was so happy to finally get that with these short stories.
Old Habits gave me more background on the Hounds and Niall's transition into leadership, as well as a deeper look into his relationship with Irial. There were also some story lines drawn between the Dark Court and High Court that I really liked.
Stopping Time gave me Leslie's continuing story and I don't want to spoil it by giving anything away, but I was very happy to know the boys didn't just leave her be.
Great, quick read that definitely added to the Wicked Lovely experience!
My Rating: 5/5
~ Other books in this series (click the name for review) ~
#1
Wicked Lovely
, #2
Ink Exchange
, #3
Fragile Eternity
, #4
Radiant Shadows
, #5
Darkest Mercy
, - Novellas (Set between books 2 & 3):
Stopping Time, Old Habits
.
~ You'll like this series if you liked ~
The Iron King by Julie Kagawa, Tithe by Holly Black, Need by Carrie Jones, Tyger Tyger by Kersten Hamilton, or Paranormalcy by Kiersten White.
~Links 4 More~
Author Website:
here
Add to your Shelfari:
here
Add to your Goodreads:
here
Buy it at Amazon (Kindle):
here