Title: Radiant Shadows
Author: Melissa Marr
Series: Wicked Lovely, Book #4
Genre: YA, Fantasy
Page Count: 352 Pages (Hardcover)
Pub. Date: Published 2010 by HarperCollins
Rating: 5/5
Hunger for nourishment.
Hunger for touch.
Hunger to belong.
Half-human and half-faery, Ani is driven by her hungers.
Those same appetites also attract powerful enemies and uncertain allies, including Devlin. He was created as an assassin and is brother to the faeries' coolly logical High Queen and to her chaotic twin, the embodiment of War. Devlin wants to keep Ani safe from his sisters, knowing that if he fails, he will be the instrument of Ani's death.
Ani isn't one to be guarded while others fight battles for her, though. She has the courage to protect herself and the ability to alter Devlin's plans—and his life. The two are drawn together, each with reason to fear the other and to fear for one another. But as they grow closer, a larger threat imperils the whole of Faerie. Will saving the faery realm mean losing each other?
Alluring romance, heart-stopping danger, and sinister intrigue combine in the penultimate volume of Melissa Marr's New York Times bestselling Wicked Lovely series.
~My Review~
The last book in my re-read of the Wicked Lovely series before I get to read the fifth and final book Darkest Mercy.
In Radiant Shadows we meet Ani, well we technically met her in Wicked Lovely but she was a very minor character - not so much anymore. Ani could change everything for the Dark Court, for all of Faery. She has the ability (and curse) of being able to feed off of both touch and emotions, and her abilities are not limited to just fey, she can feed from humans as well.
Devlin is the High Queen's advisor and bloody hands, he has sworn fealty to Reason and has devoted his existence to protecting Faery. But if he is truly High Court, then he should only listen to Reason, and should definitely not have dark urges inside of his - being made also of War, he has to battle with himself daily to restrain that half of his nature.
Devlin, like Irial, drew me in with his multifaceted personality. He is regal and logical, but also fierce and tormented. He wasn't born into a court knowing only to follow a certain path, he had/has to choose the path of Reason over War, deciding the fate of Faery by his allegiance. He had always obeyed his queen, until he saved the life of a half-breed Sorcha ordered him to kill. Now he is faced with the consequences of that decision.
Packed with action, Radiant Shadows barely let me catch my breath, as all of Faery is turned upside-down by a new Faery and a halfling. A great buildup for what I am expecting to be an epic finale in Darkest Mercy.
The only problem I had with Radiant Shadows was the cover. I LOVE the covers for the other four books and was disappointed in this one. The wolves look weird and very photoshopped on. I found a pick online of an alternate cover and I like it better, wish my hardcover sported this one: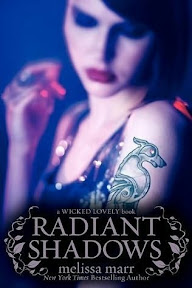 My Rating: 5/5

~ Other books in this series (click the name for review) ~
#1
Wicked Lovely
, #2
Ink Exchange
, #3
Fragile Eternity
, #4
Radiant Shadows
, #5
Darkest Mercy
, - Novellas (Set between books 2 & 3):
Stopping Time, Old Habits
.
~ You'll like this series if you liked ~
The Iron King by Julie Kagawa, Tithe by Holly Black, Need by Carrie Jones, Tyger Tyger by Kersten Hamilton, or Paranormalcy by Kiersten White.
~Links 4 More~
Author Website:
here
Add to your Shelfari:
here
Add to your Goodreads:
here
Buy it at BookDepository (free shipping):
here