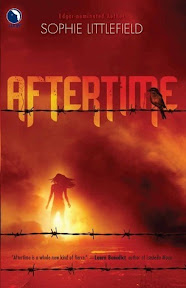 Title: Aftertime
Author: Sophie Littlefield
Series: Aftertime, Book #1
Genre: Post-Apocalyptic, Fiction
Page Count: 384 Pages (Hardcover)
Pub. Date: Published February 2011 by LUNA Books
Rating: 5/5
~Book's Description from Goodreads~
Someone once said that all apocalypses are experienced locally. In the case of Cass Dollar, the nightmare occurred with the violent abduction of two-year-old Ruthie, which she vividly remembers. Only later is young Cass assaulted also by the vague, twisting memories of a much wider conflagration that she herself only narrowly survived. A government experiment had turned the entire California landscape into the hunting grounds of zombie Beaters, but Cass can only think of the helpless toddler she is missing.
~My Review~
I Am Legend meets The Postman with a healthy dose of a love story - this book had me completely hooked and begging for more!
Cass was easy to read, and although she continually described her utter self-loathing, I couldn't help but form a soft spot for her. Smoke was mysterious and all sorts of tall, dark and handsome. I loved their chemistry, even if it was shrouded with doubts and mystery, they had me rooting for them.
The relationship, however, didn't overtake the plot of the book. I was riveted to the page, scared of the "Beaters" and constantly hoping that Cass would find her daughter Ruthie.
Some of the religious stuff had me worried near the end, but I think that Sophie Littlefield did a good job of portraying the fanatics without bashing Christians in general.
I loved every moment of reading this book, and was thinking of it during the day when I wasn't reading it. I would definitely recommend picking it up. The second book in the series is available now too, so you might just want to get them both (I'm starting Rebirth right after I post this review)
My Rating: 5/5
~ You'll like this series if you liked ~
I Am Legend by Richard Matheson, The Hunger Games by Suzanne Collins, or The Host by Stephenie Meyer.
~Links 4 More~
Author Website:
here
Add to your Shelfari:
here
Add to your Goodreads:
here
Buy it at BookDepository (free shipping):
here